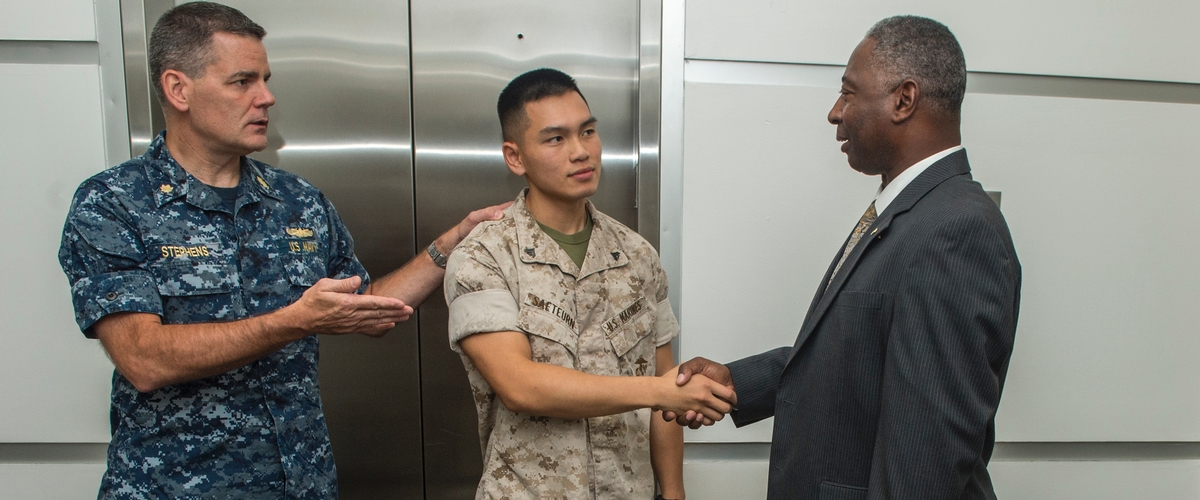 ---
Networking is a vital part of finding new employment opportunities as a transitioning Marine or spouse, but it can be stressful if you've been out of the work force for a while or are not great at small talk. The tips below will help you get over your anxiety and put your best foot forward at your next networking event.
The goal of networking is to meet new people, so walk up and introduce yourself. Everyone is looking to make connections, so there's no need to be shy about it. Not much of a people person? Focus on having a few interesting conversations rather than working the room. You're more likely to be remembered if you make an authentic connection rather than networking just for the sake of it.
Use your professional introduction or "elevator speech" when you introduce yourself. Your introduction should be concise. If you are having difficulty deciding on how long your introduction should be and what to include, you can follow the 30 second recommendation. Ensure you provide enough information to stimulate conversation. Draw upon your unique, positive experiences with the Marine Corps.
Ask if the person has been there before.

If the answer is yes, ask why he or she attends. What does he or she get out of participating with the group? What can you expect if you get involved?
If the answer is no, ask why he or she came. What does he or she hope to get out of being involved?

Bring business cards with you to share at a networking event. Enter "networking business cards" into a search engine to see samples of business cards that can be effective for this purpose.
When receiving a business card, take a moment and focus on the card, looking directly at it. Make eye contact with the person who gave you the card and earnestly thank him or her. Put a personalized note on the card to remind you of your conversation with this person.
If the person informs you that they do not currently have an opportunity that matches your skillset, don't get discouraged. Ask questions about their work and their experiences with their company, or ask if they know anyone who might have a connection for you.
Don't be afraid to ask questions about a person's background. This is a very valuable tool that can help you better understand how your experience matches other civilian jobs.
Learn more networking tips through your installation's Transition Readiness and Family Member Employment Assistance Programs and Marine For Life Network.