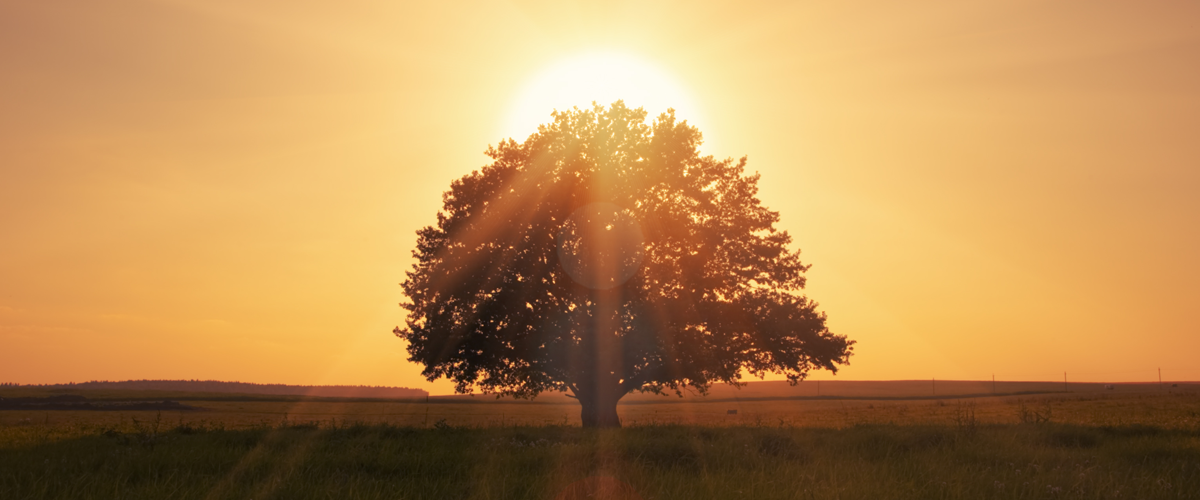 ---
In our data-driven society, we are always looking for evidence to be convinced of why something matters or why we should care. Spirituality is too often included in this group of "squishy" collections of things many are not comfortable with. Dr. Lisa Miller, Professor of Psychology and Education at Columbia University, reminds us that "Science can never define spirituality, but it can look at the positive impact of spirituality on a person's life." Like a healthy diet, the benefits or "blessings" as some would call it, are typically seen much later in time. It's why New Year's resolutions almost always fail, as they are often driven by a combination of guilt as motivation and a desire for immediate results.
Just like a healthy diet or sleep, practice produces many long terms benefits that eventually manifest into day-to-day differences in a person's energy, attitude, and wellness, so spiritual practices also penetrate into many areas of life and show up! The benefits are especially noticeable in how people deal with trauma and other challenges of greater magnitude. Dr. Harold Koenig is the founding director of The Center for Spirituality, Theology and Health at Duke University, and a leading scholar in the study of religion and health. While spirituality is certainly eclectic and multi-faceted, it can also be expressed in the form of religious activities. In such cases, Koenig found that "There is considerable evidence that religious people do, in fact, live longer and are happier."
So what if you are not interested in religion or adapting to some new beliefs? I think part of the problem with our thinking on spirituality is that we get stuck on the doctrine or creedal aspects. While core beliefs are central to anyone's wellness, spirituality as a practice has not been considered as serious. Something as universal as dedicated nature walks with a journal can be a deeply spiritual experience. Many are using yoga, zen, and mindfulness breathing techniques to increase self-awareness and physical and spiritual release from the grind of modern life
Wherever you may situate yourself in the spiritual fitness chart, I invite you to consider taking the time to do a simple inventory of your spiritual "meter." The chart below is a type of "mirror" for the inner life. We are very keen on physical appearance and fitness, but we don't take nearly enough time to examine the wellness of our interior life.
A nice journal is one of the best investments you can make. Write these bullets in the form of questions and score yourself daily from one to five. That's a starting point. Then consider the various activities, relationships, and thoughts and images that actually enhance and move the needle for these items in your life.
There you go! With this first step, you are well on your way to growing in spiritual fitness and expanding your understanding of health and resiliency.
Semper Fidelis,
Chaplain Won, LCDR, CHC, USN
Chaplain
Manpower & Reserve Affairs
Headquarters Marine Corps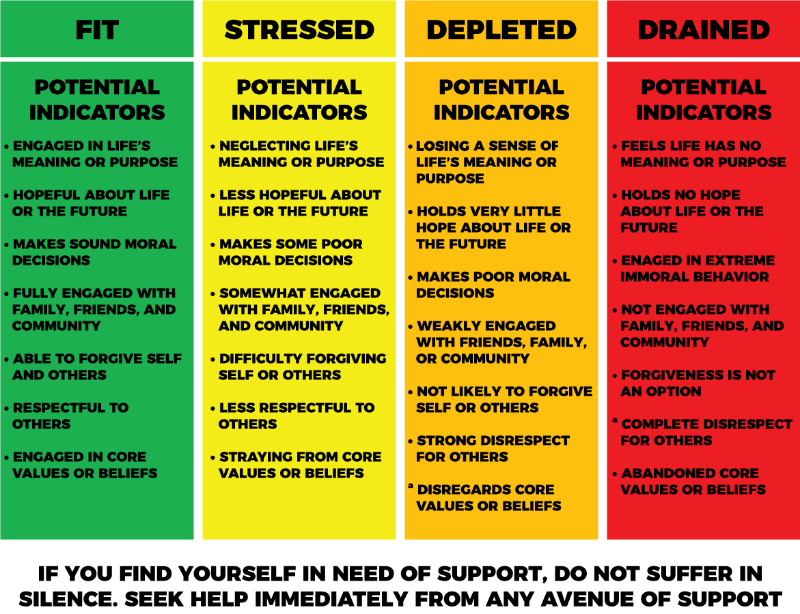 Dr. Lisa Miller, is a Professor of Psychology and Education at Columbia University, and she has been working closely with the Department of Defense to help expand our understanding of resilience and spirituality. She is just one among many scholars and interdisciplinary thinkers recognizing the overlooked nature of this powerful connection between active spirituality and resilience. She has been assisting the Army to revitalize Soldier spirituality through a number of seminars and is working closely with their Training and Doctrine Command (TRADOC) as well as the Navy Chaplain Corps to train Chaplains towards a broader and more robust framework for leading this effort in the sea services.