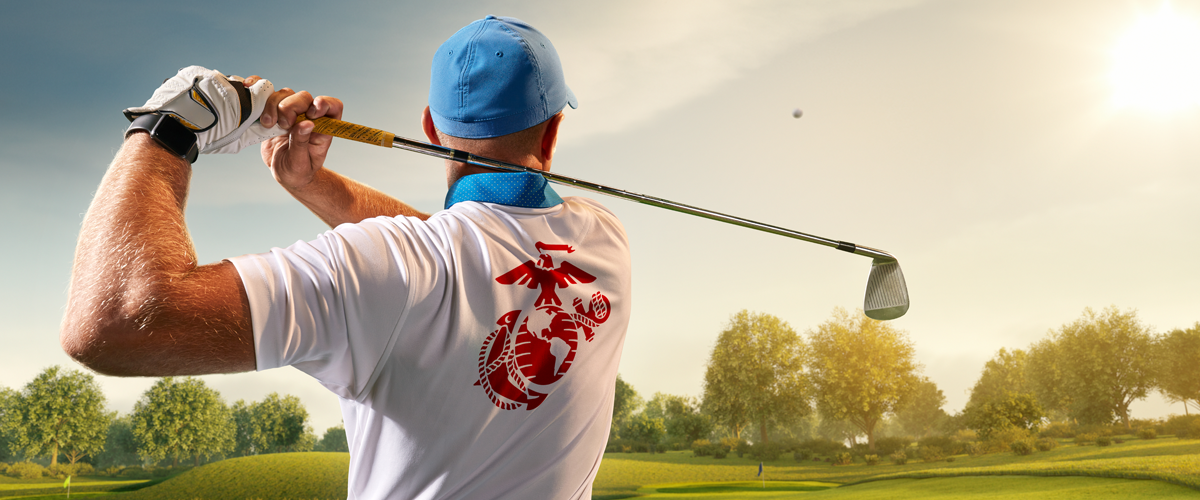 ---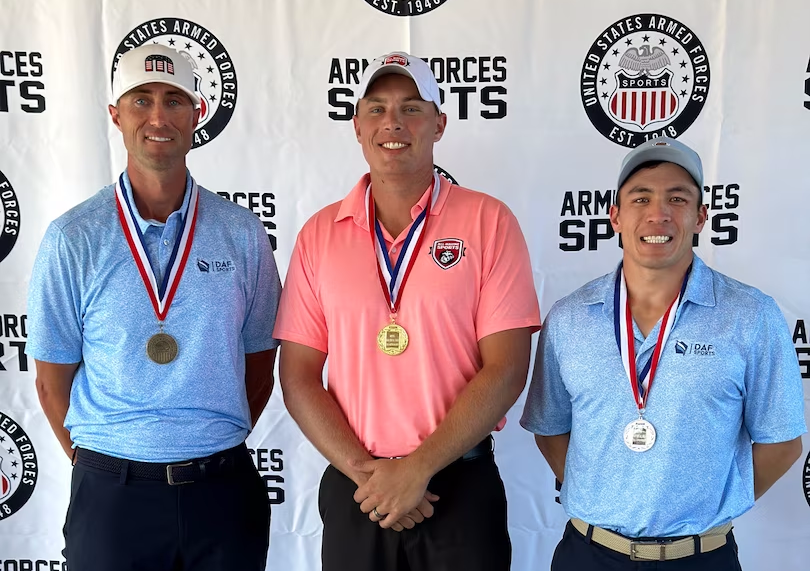 Marine Corps Capt. Nicholas Brediger (center) took home the gold medal in the 2023 Armed Forces Golf Championship, which was held Sept. 21-24 at the Admiral Baker Golf Course in San Diego, CA,.
---
Marine Corps Capt. Nicholas Brediger (OSS Charlottesville, VA) finished on top at the Armed Forces Golf Championship on Sept. 24, taking home the gold medal at the Admiral Baker Golf Course in San Diego.
Brediger, an officer selection officer at the Officer Selection Center in Charlottesville, VA, is the first Marine to earn a gold medal as an individual in the event's 75-year history. In round one, Capt. Brediger shot a 65, seven under par, which tied the course record. He ended the tournament at 11 under par for the 72 holes that were played.
Brediger and Marine SSgt David Banks, who is stationed at Marine Corps Air Station (MCAS) New River, earned spots on the U.S. Armed Forces Golf Team and will compete in the Conseil International du Sport Militarie (CISM) World Military Golf Championship at the San Diego course Oct. 1-8. Teams from 17 nations will compete in the 14th edition of the CISM Golf Championship.
The USMC men's team finished in second place overall behind the Air Force, winning the silver medal. Other members of the men's team were SSgt Adam Kish (Makalapa, HI), Master Sgt. Benjamin Dietz (MCAS New River), 1st Lt. Brenden Roberts (Marine Corps Base (MCB) Camp Pendleton), and Lt. Col. Gregory Scott (MCB Camp Lejeune). The team is coached by Charles "Andy" Hinson who is the club professional at the Legends Golf Course on Marine Corps Recruit Depot Parris Island.
The USMC women's team fared well, as Capt. Margaret Gross (MCB Camp Lejeune) placed fourth and became the first female Marine to earn a spot on the CISM team. Capt. Gross and teammate Capt. Meghan Reinwald (MCAS Miramar) helped the USMC women's team finish in 3rd place overall behind the Air Force and Army.