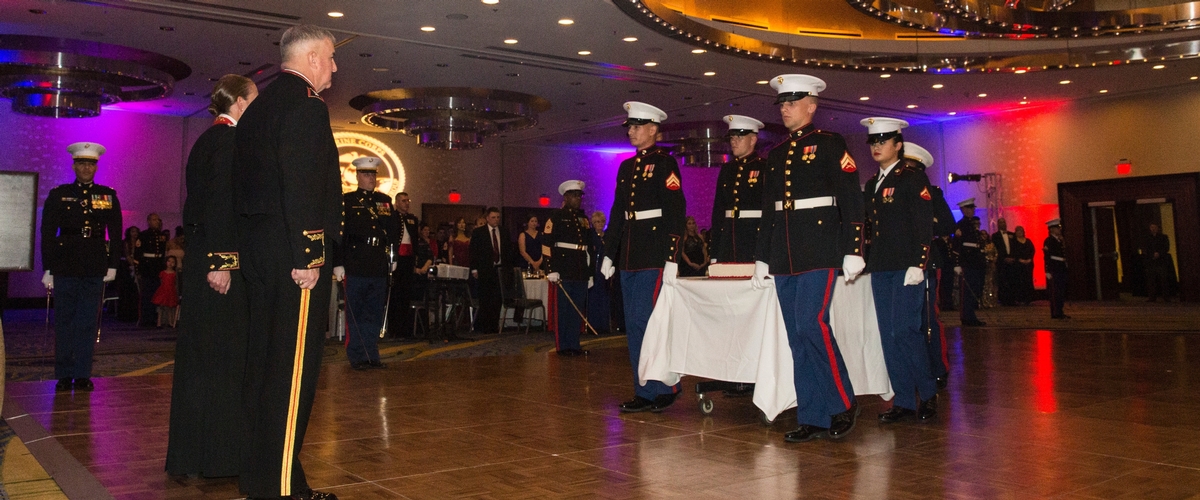 ---
Marine Corps Birthday Ball season is upon us! It's a unique night of tradition, fun, formal attire, and food. Special events like this call for some special tips in order for it to be truly a positive night to remember. If this is your first ball or your 30th, these novice Marine Corp Ball etiquette tips continue to apply.
Dress for the Occasion – It's a night to look classic, stunning, and stylish. As the ball is a formal event, a floor-length gown and a classic suit and tie or a tuxedo are appropriate. Remember, don't be afraid to show individual style, but be sure to select something to match the always impeccably classy Marine Corps Dress Blues. Also be sure it's something you will be comfortable walking, sitting, standing, and dancing in!
Know your Tech-iquette – Once the ceremony starts, be sure to silence and if possible tuck your phone away. When you might need your phone in sight, refrain from texting during the ceremony. If it is absolutely necessary that you use your phone to call or text, quietly and quickly exit the space.
Would you like to snap some photos of the ceremony? Be sure to ask in advance if photos are permitted. Once dinner is served enjoy the company at the table and your delicious meal; keep your phone stashed away unless it's time for a group picture!
Make New Friends – The Marine Corps Ball is the perfect place to meet new friends and get to know your significant others command. With any luck, your Marine can introduce you to lots of people. In a formal introduction, the junior is usually introduced to the senior- "Rachel, I'd like you to meet Col Smith, my CO." Then the introducer can share something to ease the interaction "You both lived in southern California!" Sometimes your date might not have the opportunity for introductions; don't be afraid to introduce yourself! Simply saying who you are, who you're with, and a little thing about yourself (like is this your first ball, or how long have you been at this duty station) helps break the ice.
Embrace the traditions and courtesies – Remember this is an evening to honor the history and legacy of the Marine Corps and the accomplishments of the Marines; we are guests at this event. Which means have fun, but drink responsibly and always plan a safe and sober way home. Your Marine will be wishing Happy Birthday to his/her fellow Marines; be sure to leave their right arm/hand free for handshakes and salutes.
Looking to move from novice to expert, attend a L.I.N.K.S. seminar beforehand, or contact your local MCFTB office for more information on how to have a ball at the Ball!