Frequently Asked Questions
Additional Sport Opportunities
Athlete of the Year
A Commanding Officer (Lieutenant Colonel command or higher) each year may nominate a Marine male and female for Athlete-of-the-Year. The call for nomination is typically announced at the beginning of each July with a deadline in early October.
The nomination form may be found here.
Qualifications:
Athletic: Marines who have excelled in intramural, varsity, All-Marine, national, and international competitions are to be considered.
Competitions must comply with amateur regulations within nationally recognized governing bodies (e.g., USA Volleyball) or affiliated organizations (e.g., amateur athletic union) within the United States Olympic Committee.
Professional sports participation will not be considered per reference.
Marines shall be in good standing and meet all required Marine Corps standards.
For additional information, you can send an email to: OMBMCCSSportsApplications@usmc-mccs.org.
U.S. Armed Forces Sport
The Armed Forces Sports (AFS) program was officially established in 1948 as the Inter-service Sports Council (ISSC). The AFS program is the culmination of each branch of Services' sports and fitness program. The AFS program offers 25 men and women team and individual sports; annually conducts 16 Armed Forces Sports Championships and 9 qualifying events/Trial Camps; participates in 9 U.S. national championships and 16 CISM Military World Championships. Visit the
AFS website
.
Conseil International du Sport Militaire (CISM)
Conseil International du Sport Militaire (CISM)
CISM is the second largest multi-sport discipline organization after the International Olympic Committee. They represent the highest level of military athletic competitiveness and organize various sporting events for the Armed Forces of their 136 member countries. U.S. Armed Forces Sports is the organization that represents the U.S. Armed Service sports teams at the CISM level.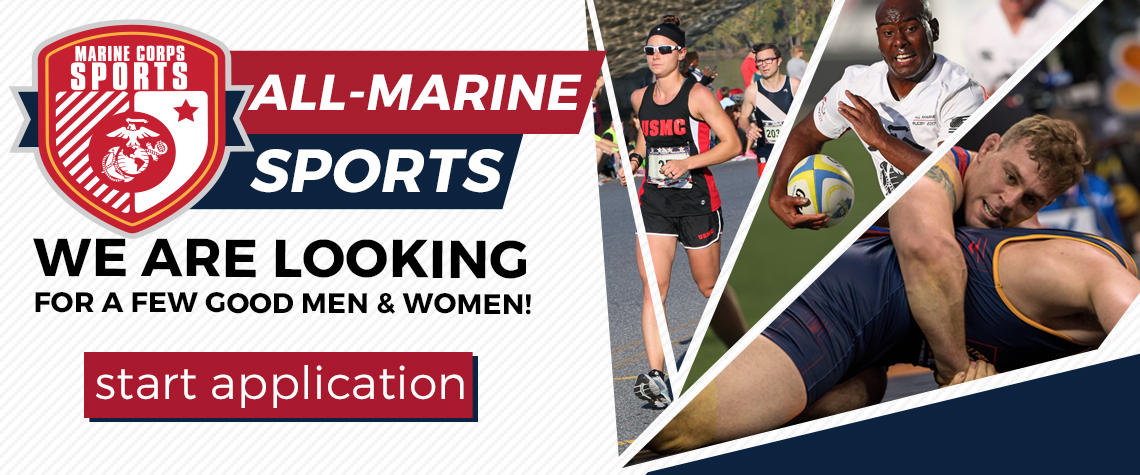 All-Marine Sports enable exceptional Marine athletes to compete at higher level competitions to include Armed Forces Championships, National Championships, Conseil International du Sport Militaire (CISM) Championships, and the Olympics. The All-Marine Sports program has produced multiple athletes that are nationally ranked and have gone on to perform in the Olympics.
All-Marine Sports Standard Test Events
Scores for the following events are required for applications to be considered for participation. Click on the event name for more information and how to correctly perform the event.
Three Repetition Maximum (3RM) – PDF
One Repetition Maximum (RM) - Website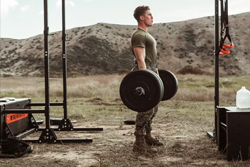 3RM Deadlift
More Information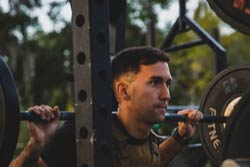 3RM Squat
More Information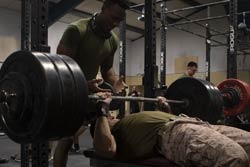 3RM Bench
More Information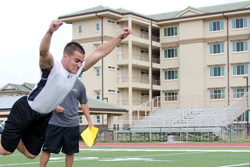 Broad Jump
More Information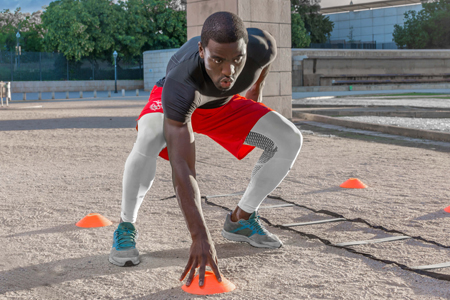 Pro-Agility
More Information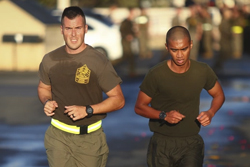 Running
More Information
Most current running times for: